Thirumananjeri
About Temple: Among the myriad temples in and around Kumabakonam and Mayavaram Kalyanasundarar temple Thirumananjeri is a famous Prarthana sthala. It is believed that unmarried boy or girl will enter into wedlock if they propitiate the presiding deity Kalyanasundarar and his divine consort- Kokilambal.
Punarvasu Nakshatra : Arulmigu Abathsagayeswarar temple – Alangudi Lord Guru Bhagavan or Lord Dakshinamurthy is one of the "Navagrahas" and is referred to the planet Jupiter, and Alangudi is the "Guru Stalam" dedicated to the planet Jupiter. Thursday is an auspisious day for Lord Guru Bhagavan. The temple here is known as the "Arulmigu Abathsagayeswarar temple" where the main deity is Lord Shiva. The presiding diety's are, Lord Ganesha/Vinayagar known here as "Sri Kalangamar Katha Vinayagar". Lord Shiva (Shiva is in the form of a lingam and known as "Sri Abathsagayeshwarar"). The lingam is the 'Suyambu' Lingam. Lord DakshinaMurthy also known as "Sri Guru Bhagavan" or "Brahaspati". Goddess "Sri Elavarkuzhali Ammai" (Umayammai). There are also diety's of Lord Murugan (Subramanyam) with his consorts; and Goddess Lakshmi.
திருமணஞ்சேரி என்றால் திருமணம் நடந்த ஊர் என்று அர்த்தம். அதாவது, சிவபெருமானுக்கும் பார்வதி தேவிக்கும் திருமணம் நிகழ்ந்த தெய்வ சக்தி நிறைந்த பூமி இது. கன்னிகா தானம் செய்து நடத்தி வைத்தவர் ஸ்ரீமகாவிஷ்ணு. இந்த தெய்வத் திருமணத்திற்குப் பின் சிவனும் – பார்வதியும், விஷ்ணுவும் – லட்சுமியும் நால்வருமாக அங்கேயே வாசம் செய்கிறார்கள் என்று ஐதீகம்!
WORKING HOURS: Thirumananjeri: Marriage archanas are performed only from 8am-1pm and from 3.30pm to 8.30pm on normal days and from 7am to 9pm without a break on Saturdays/Sundays; Fri/Sat/Sun/Govt.holidays/Muhurtham days are very crowded (500-1500 spouses per day; 100-120 per batch; one batch takes about an hour); other days : 100-200 spouses per day; one batch has 10-20 spouses; takes 30 mts per batch; batch starts every 30-40 mts and so need not hurry; Parents can partake on behalf of their children if the boy / girl is unable to visit in person. General timings for all temples in Tanjore district : 0800 – 1200 and 1600-2000 hrs definitely open; one hour leeway is possible on either side; hence check locally. Max. is 0700 – 1300 and 1500-2100 hrs.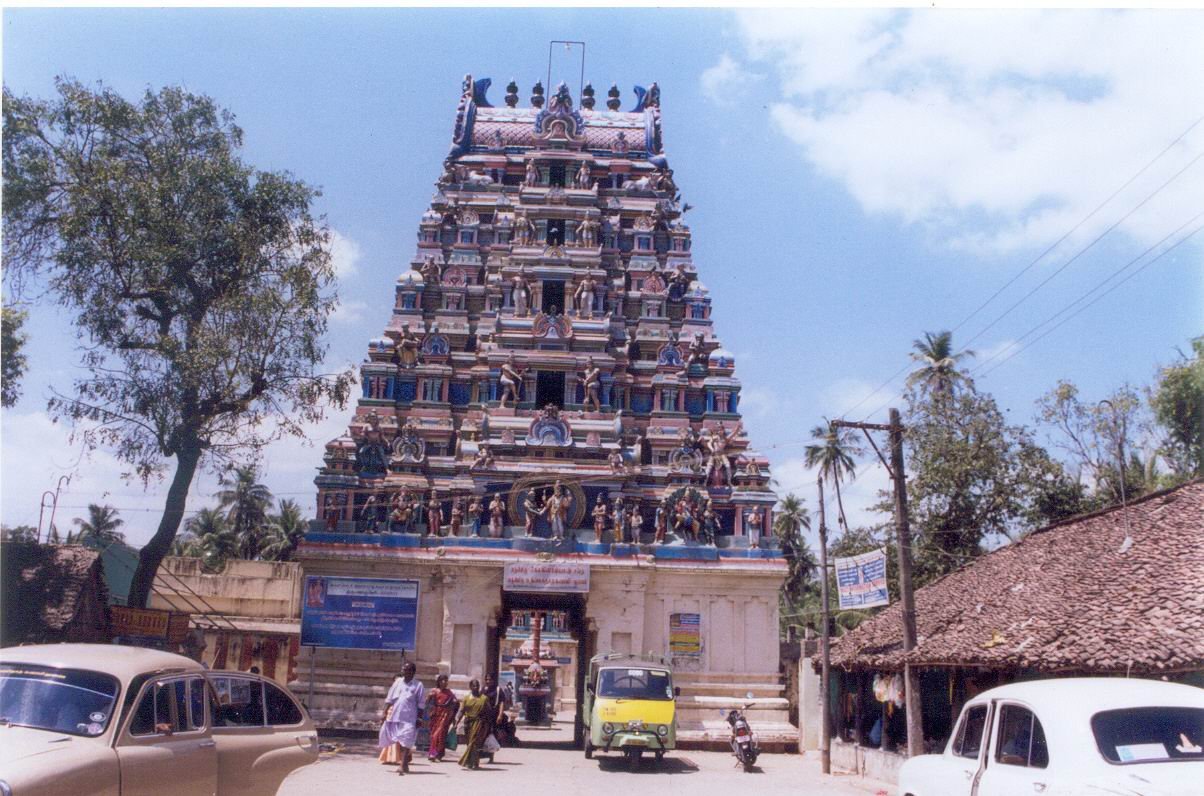 AUSPICIOUS TIMES AT THIS TEMPLE: All times are considered auspicious since Lord Shiva and Parvathy are in a bliss here always. Temple observes no Raagu kalam, Emakandam, Kuligai kalam, Ashtami, Navami etc.
Daily Pooja: Daily six poojas takes place in this temple namely Ushakkalam, Kalai Santhi, Uchikalam Sayaratchai, Irandam Kalam, and Artha Jamam.
Weekly Poojas Due to the welface of the world every Tuesday and Friday Sahasranamam and Lalitha Thiruchathi Archanas will take place. Common prayers also will be conducted.
Monthly Poojas Every 1st day of Tamil month 'Karthigal' and during Pradosham special Abisheham will be done. During 'Sangadahara Sathurthi' and 'Pooja Natchathiram' special Abisheham along with 'Umamaheswara Homam' will be done to Kalyana Sundarar.
Annual Poojas Navarathiri, Vijayadasami, Thirukkarthigai, Aruda Dharshanam, Festivals takes place. Every year during Tamil month 'Chithirai' Thirukkalyanam Festival will be celebrated in a grand manner.
The devotees can offer 'Ashtothram' and 'Sahasranama Archanais' from 6 a.m to 8.30 p.m every day.
Struture Of The Temple: Arulmigu Uthvaganathasamy Temple is a holy shirine of Lord Kalyanasundarar. This temple is facing East. As soon as we enter the Sanctum after leaving Rajagopuram Lord GAnapathi has embodied himself. Then we can see Thuvajasthambam, Balipeedam, Mahanandhi and Mandapam(Great Hall) After leaving Kattagopuram Varasihi Vinayagar bestow hiw good will infront of Vinayagar Shobana Manadpam. Inside the sanctum Arulmighy Sri Uthvaganathar (Arulvallanathat) bestows his Goodwill in a beautiful manner in Thuvara Mandapam with Thuvara Balagar and Nandhi. In Niruththa Mandapam Sherr Natarajar Bestows his goodwill in a dancing exposure. In front of Natarajar in the south Praharam Lord Kalyanasundarar stands by embodied the Goddess Ambigai with a laughing expose facing east. The Kalyana Sundarar is the king of monarc and Hero of Lord in the temple.
After getting their good wishes shree Kokilambal Ambigai Sitting in Suhasanam poisture as a bride in the wedding plateform. It is a great feast to our eyes to look after and worship the Goddess. When we enter to the Inner Praharam we can see the sanctum of four dieties of Samayakkuravar's who propagate salvate in this country in front of the Natarajar Sabai. In the South side of the Devakushtam Pichadanar, Balaganapathi, Natarajar, Dakshinamoorthi in a yoga poisture were found. In the west side Lingothpavar, and in North side Brahman, RAghuBhagan and Sri Durga have been installed ina seperate sanctum.
In the Kannaimoolai a beautiful Lord vinayagar sannadhi in the western side Karuvarai along with Upaya Nachiar Lord Mahavishnu, Lakshmi sannadhi and also the Idols of Baharatha Maharishi, Sembian Madevi, Mallappa Naicker were installed in the four directions of Karuvarai. In the east Thirumalai row the following Idols were installed they are shree Saneeswara Bhagavanm Pachaiyappa Nathar, Rudravaneswarar, Pachaiammai and Nayagi Rudravaneswari. In general this temple is having so many immortal and rate deities to worship and pray for the grant of mercy and blessings of Lords for the Good will of devotees in all aspects in fulfill their ambition.
Another route from Kumbakonam : Take SH64 towards Mayuram, go 16km to Aduthurai, take left 4 km to Suryanar kovil, 6 km to Kanchanur, 9km to Thirumanancheri = 35 km approx.
Six Kalyana sthalams, all around Mayurm / Mayiladuthurai are: Parvathi requested Shiva to marry her again which he accepted with joy and also informed the time of their wedding. Parvathi became impatient as there was a fairly long time for the marriage. She became callous and cold shouldered Shiva. There are many unmarried men and women who are grouped to propitiate the deities. The priests conduct the rituals precisely and the pooja with the reverence. Rathi and Manmadhan were united in wedlock in Thirumananjeri.
LOCATION: Tamilnadu; Thanjavur District; 10 km west of Mayuram (Mayiladuthurai) as the crow flies.
CAR ROUTE: Cabs are available in almost all places like Thanjavur, Kumbakonam, Mayuram, Seerkazhi, Chidambaram and even in small towns like Kuthalam.
Mayuram to Thirumananjeri Direct route: 10km without going to Kuthalam (saves 10km since Mayuram-Kuthalam-Thirumananjeri is about 20 km): enter from east/Thirukkadaiyur, take right at Y-Jn (for Kuttalam/Kumbakonam Rd take left here) – go thru bazaar 2km – take left adjacent to the HP Petrol Bunk – take right at T-Jn 300 M away – take left at T-Jn 200 M away – drive 7-8 km straight till you reach a vaaikkal (this is a good tar road 20 feet wide)- when you see a board "Thirumananjeri Temple route' take right – drive in 8-feet tar/gravel road for 2 km – cross aathuppalam [30 feet wide bridge 50 feet long] – 1 km- enter Thirumananjeri; if you miss the right near the board, proceed straight and join the Kuthalam-Thirumananjer Road where you can take the right.
From Kumbakonam : Take SH64 towards Mayuram, go 16km to Aduthurai, 11 km to Kuthalam, take left 8km to Thirumananjeri = 35 km approx. Faster route but cannot visit Suryanar Temple if you want to.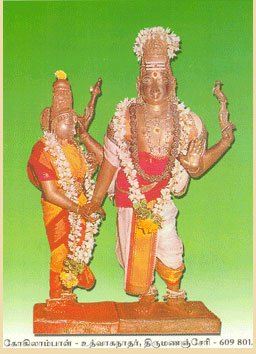 TEMPLE PROCEDURES:
Before entering temple: Car Parking is available in front of the gopuram on normal days; on weekends it is difficult to get parking.
Leave chappals in the car itself, if possible.
Buy archana thattu/bag INSIDE the temple, not in the outside shops though shopkeepers will keep pestering you.
Buy Archana tickets inside the temple in the counter: For marriage : Rs.15; Puthira Dosha archana : Rs.5; normal ashtothram archana : Rs.2/ticket;
Buy ghee dheepam thattu (Rs.20 for 5 lamps) near the archana counter, not outside. If possible, take original ghee from home since ghee sold there may be dalda. Clay lamps are available there (or we can take from home).
Step-1: Go into the temple; Selva Ganapathy is on the left of sanctum sanctorum: pray before him first.
Step-2: Pray Lord Shiva (Sri Uthvaganatha Swami) next and go to Amman Sannithi on the right. Meenakshi Amman here appears as a 13-year old Kokilambal, head slanted to her right, with three bends ("naanikkoni'). This kolam is before her marriage.
Step-3: On the left of this mandapam is the important Kalyana Sundareswarar sannithi and mandapam. Light the ghee deepams first, right opposite to the Kalyana sundareswarar sannithi (except for mangala raagu which has separate place for ghee dheepams); here the deities are in marriage kolam; Meenakshi is on his right looking at the floor in kalyana kolam; hence married girls should always stand on the right hand side of the groom during all auspicious functions; the priests perform the rituals here to remove our marriage obstacles. Details are given below.
Marriage delay Pariharam: Unmarried spouse should buy one set of archanai thattu/bag; there are two places where you can buy this thattu; there are ten shops just outside the temple which sell this thattu at Rs.80 for boys and Rs.90 for girls [because manjal kayiru is added] containing 2 garlands, 2 coconuts, one lemon, vetrilai paaku, kalkandu; the same thattu is available inside the temple also at Govt (HR&CE Dept)-fixed price of Rs.40 & 45 sold by an HR&CE employee; always buy it inside the temple in Tanjore temples.
As soon as you enter the Kalyanasundareswarar sannithi, light the dheepams first and then wait for the next batch; only girls and boys concerned are seated inside the enclosure and those accompanying should sit around this enclosure; couples who come after marriage to complete the rituals and the parents (of boys/girls who are unable to come in person) also can sit inside the enclosure; if you are parent(s) inform the priest as soon as you enter the enclosure.
The priests brief you first regarding the Do's and Don'ts; then collect all the garlands and the archana tickets first; they keep all garlands at the feet of the god, return one garland each to the spouse to be worn, parents must keep it in their hands; sangalpam is done and the thattu is taken away; parents should tell the boy/girl's gothram/name/star and not theirs; archana follows, coconuts are broken, thattus are returned after aarthi as usual; drop Rs.10 or so in the thattu for the priests.
Do's and Don'ts: Vibuthi, kumkum (plus manjal for girls) are to be used, after prayers, for one mandalam (45 days or till they last) by the boys/girls only and NOT by others in the family.
Lemon should be drunk, without adding salt or sugar, by the boys/girls only and NOT by others; the next morning after bathing the boy/girl should pray wearing this garland and then drink the lemon juice with a little water.
Then retain the garland in a cloth bag (manjal pai), not in plastic bag, till marriage is over and come again with spouse; the same garland is finally put in the temple tank here.
Coconuts can be used by the entire family for cooking.
Step-4: After these rituals at the Kalyana sundareswarar sannithi, go and pray Shiva again. Normally no separate archana is done here.
Step-5: The kalyana melam/Nadhaswaram party collects Rs.10/boy or girl while coming out of the sanctum sanctorum, though not compulsory.
Step-6: Pray Raagu. Mangala Raagu here in the north of inner praharam is special for puthira dosha nivarthi; normal ghee dheepam (5 for Rs.10) available near Raagu, should be lit only by the boy or the girl or one of the parents if the boy/girl has not come;
Full procedure for Puthira dosha pariharam:: take bath in the thirukkulam nearby on amavasai day and take paal payasam for puthira bagyam; childless couple should offer ghee which is returned as prasadam which is to be taken at night for 48 days by both.
HISTORICAL / RELIGIOUS IMPORTANCE: 10th Century Chola Temple.
There is a moat around the temple.
Once upon a time, Parvathy wanted to marry Shiva in an earthly marriage with all religious rites on the earth; Brahma, Vishnu and Indira came to earth as acharya in Thiruvaduthurai; while playing chokkattan (similar to Thaayam), Vishnu won and his sister Parvathy laughed aloud; Lord Shiva was angry and said "Ada pasuve!" and Parvathy was born as a cow on earth; Vishnu became her herder at Therazhundur; Barathamuni had no children and he prayed the Lord; he was given permission to remove her curse and so he converted her cow shape to a feminine figure at Thiruvavaduthurai; she grew up at Kuthalam alias Thiruthuruthi in Bharathamuni's house; Lord Shiva came to marry her as promised earlier and Barathamuni received him at Ethirkolpadi; Shiva performed all the marriage rites / velvi at Velvikkudi before marriage; then he married Parvathy at Thirumanancheri. Shiva hence gets the name 'Pasupathy'.
1. Therazhundur (Vedhapureeswarar – Soundaryanayagi) – 11km from Mayuram.
2. Thiruvaduthurai
3. Kuthalam.
4. Ethirkolpadi.
5. Velvikkudi.
6. Thirumanancheri.
The following story also keeps floating around: Two girls promised each other that their son and daughter would marry in future; one got a beautiful girl while the other gave birth to a turtle-shaped boy; former refused the marriage; the latter appealed to the Lord; he converted the turtle to a handsome young man; marriage went off well; so goes the story; hence the belief is that the physical disabilities of the spouse will be either corrected by the Lord or overlooked by the other spouse; hence the marriage obstacles would be removed once you come and pray here.
To bless the devout multitude on earth Lord Shiva and Parvathi got married in five different types. The celestial wedding that took place in this sacred spot was performed according to the sastras followed by human beings.
The wedding of Shiva and Parvathi When Shiva and Parvathi were in a happy mood in their abode in MT Kailash a strange idea struck Parvathi. Instead of the usual fight that separates the couple after which they unite in wedlock , Parvathi thought it correct and logical to request Shiva to marry her another time.
Parvathi requests Shiva to marry her
Shiva gets angry Shiva watched her behavior and in a fit of anger cursed her to be separated from him and take the form of a cow. Parvathi incarnated as a cow and roamed in the jungle. She was always thinking of her spouse while loitering in Asukadau( forest) he divine cow -Parvathi spotted a Lingam and showered it with milk from its udder. Shiva was overjoyed to see the devotion of his consort.
Mukti at Thruvavadurai Shiva happy with Parvathi's (cow)deeds and granted Mukthi to her Thiruvavaduthurai. He was contemplating as to how Parvathi could be born on earth so that he can marry her quickly.
Bharatha Maharishi was conducting a yaga and Shiva thought it apt to make Parvathi appear from the yaga kundam. Thus a divine damsel emerged from the yaga kundam and the sage Bharatha was happy to see her and considered as a holy girl. He was worried about finding a suitable groom for her. The Lord appeared in his dream and assured him that he -Shiva would marry her as she is none other than Parvathi. Shiva also wished that the sage should perform the wedding in a grand manner Lord Shiva appeared in the dream of Sage Bharatha, that he will enter into wedlock with the celestial who appeared from Sage Kundam.
Thus the Sage meticulously looked after the wedding arrangements. The divine wedding took place in Thirumananjeri which was witnessed by celestial beings. Since the Thirumanam (Wedding) took place at Thirumananjeri, this place is called Thirumananjeri.
Praying For Marriage There is a popular belief that unmarried men and women will get married by worshipping the Lord and his consort. All the pooja items which is required to propitiate the deities are available inside the temple. But there are shops adjoining the temple who sell the pooja items.
One should visit Thirumananjeri only after completing their visits to other places. This temple should be the last leg in their tour. Faith can move mountains. Reposing faith in the deities will do wonders. Unmaried men and women who prayed for their wedding should compulsorily visit Thirumanajeri after their wedding and follow the ritual as ordained by the priests.
There is a separate shrine for Rahu of the Navagraha. The childless will get a progeny if they worship him thus called Mangale Rahu and worshipping him consecutively on three New Moon days will remove the malefice effects of Navagraha.
Thiruvizha: In the Tamil month of Chithirai on Poosam star; Shiva's Thirumana Mahotsavam. PERSONAL TIPS for Thirumanancheri: Best time to visit: least crowded on weekdays especially during exam periods.
Food: Take food with you since nothing except tender coconuts and biscuits is available.
Toilets: no specific place as rest rooms; the whole world is yours!
Accommodation: Nothing is available there since none stays there; very small guest house is there for an emergency.
Dress code: no code; pants, dhothi, shirts, saree, chudidhar etc are ok;
Priests: only one priest stays locally; others come from nearby towns daily.
Medical facilities: none; nearest is Mayuram or Kumbakonam.
திருமணஞ்சேரி என்றால் திருமணம் நடந்த ஊர் என்று அர்த்தம். அதாவது, சிவபெருமானுக்கும் பார்வதி தேவிக்கும் திருமணம் நிகழ்ந்த தெய்வ சக்தி நிறைந்த பூமி இது. கன்னிகா தானம் செய்து நடத்தி வைத்தவர் ஸ்ரீமகாவிஷ்ணு. இந்த தெய்வத் திருமணத்திற்குப் பின் சிவனும் – பார்வதியும், விஷ்ணுவும் – லட்சுமியும் நால்வருமாக அங்கேயே வாசம் செய்கிறார்கள் என்று ஐதீகம்!
இப்படிப் பெருமை பெற்ற தலம் திருமணஞ்சேரி. கிழக்கே விக்கிரமன் என்னும் காவிரியாறு, மேற்கில் கிளை நதியான காளி வாய்க்கால். இரண்டுக்கும் நடுவில் அமைந்த திருத்தலமே திருமணஞ்சேரி.
பூமியில் பசுவாகப் பிறக்கும்படி பார்வதி சாபம் பெற்றாள். அப்படி பசுவான பார்வதிதேவி இங்கே வந்தபோது, அந்தப் பசுவை மேய்க்கும் இடையனாக விஷ்ணுவும் உடன் வந்தார். சாப விமோசனம் பெற்ற பின் பார்வதி சிவபெருமானை மணந்தார். அப்போது விஷ்ணுவே பார்வதியை சிவனுக்கு நீர்வார்த்து கன்யாதானம் செய்து வைத்தார்.
நான்முகனான ஸ்ரீபிரம்மா, புரோகிதர் ஸ்தானத்தில் இருந்து சிவ பார்வதி திருமண வைபவத்தை நடத்தி வைத்தார். மதுரை மீனாட்சி சுந்தரேஸ்வரர் ஆலயத்தில் இந்தத் திருமணக் காட்சியை தூணில் சிற்ப வடிவமாகத் தரிசிக்கலாம்!
திருமணஞ்சேரியில் மணந்துகொண்டதால் இங்குள்ள சிவனின் திருநாமம் கல்யாண சுந்தரேசுவரர். உத்ஸவரின் திருநாமம் உத்வாக நாத ஸ்வாமி. அம்பிகை கோகிலாம்பாள். நடத்தி வைத்த மைத்துனர் விஷ்ணுவின் திருநாமம் ஸ்ரீலட்சுமி நாராயணர். ஸ்ரீதேவி, பூதேவி. சகிதமாக இருக்கும் உத்ஸவரின் திருநாமம் ஸ்ரீவரதராஜப் பெருமாள்.
Please follow and like us:
Amazon Auto Links: No products found.
Amazon Auto Links: No products found.